Practical Front Yard Landscape Design
Great tips for your front yard landscape design. Turn your garden into a show garden with our guidance. Start by downloading a free front yard landscape design later on this page.
Visit our garden plans page for an overview of the complete range of downloadable garden designs, or learn how to do your own garden design.
This is an indigenous garden for a hot climate. Adapt the front yard garden design by replacing the plants on the plant list with plants that thrive in your area. This is not as difficult as it seems. Just visit our garden design page for all the guidance and information you need.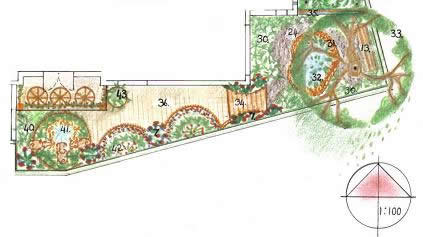 Oh yes, one last thing before we get to the front yard landscape design. All the gardens on our website, including this garden design, may be copied free for your use, in your home garden. You may not use any of our designs or parts thereof, for any commercial purposes. I'm sure you understand!
The Area and Site
The house is situated in an exquisite mountainous area. This home blends in well with the surrounding environment. The ground is slightly sloping (good for drainage). Services on the site include municipal services, irrigation system, sewage pipes and sanitation. Electricity had to be laid on for the garden lighting.
Front Yard Landscape Design Description
You enter the front garden via the Dining Room verandah (stoep). The view from the dining room window is framed. In the frame, a warthog and pebble water fountain is seen.
Behind the fountain are mixed plantings. These plantings are carried through into the circular beds. This creates harmony, unity and rhythm in the design.
The circular shapes draw your eyes toward a solid wooden bridge. A bark pathway leads to an ecological pond. The pond draws wild life to the garden.
The deciduous tree provides shade during the summer, and allows sunlight to filter through during winter. The bench, under the tree, provides a suitable spot for relaxation.
This backyard forms part of a larger garden design. The complete design includes a backyard design plan, a front yard design plan and a courtyard design plan.
Download the front yard landscape design and plant list. You may also download the complete garden landscape. Note the picture file size is 173 kB and may require some time to download. Right click on the link and "select save as.." and save to your PC. Select a suitable image viewer to view the picture.