Garden Plans to Beautify and Uplift
Our garden plans and landscape designs really work! We have landscaped adaptations of our show gardens. Our clients just love their gardens.
Copy and adapt our garden plans
to suit your garden. We really enjoy designing gardens, and take pleasure in sharing our designs with you.
Most of the designs were done for a complete landscaping of the whole property. The whole theme is carried throughout with stunning effect. But, let's face it; few people can afford to do it all at once. So use one part of a plan at a time, and continue when convenient, until it is all done.
We describe the intended use for each garden plan. This will help you to determine if the landscape design is suitable for your home and family.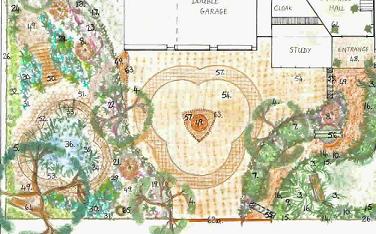 Free Landscape Design

Oh yes, one last thing before we get to the plans. All the gardens on our website may be copied free for your use, in your home garden. You may not use any of our designs or parts thereof, for any commercial purposes. I'm sure you understand!


A brand new
Japanese Garden Designs Package
has been added to our portfolio. It combines our best Japanese designs into one low cost package, ready for instant download. This offer expires soon.
Free landscape design
This is an informal garden design for a Moorish style house. There are large lawns for the children to play on, but also sufficient features to stimulate visual interest.
Garden and patio design
This garden design is made up of two parts. Each part is a design in its own right. Together they form a harmonious unity.
Free garden design plans
An ecological garden is divided up in different rooms, each with their own unique design.
The front yard landscape design , the backyard landscape design and the courtyard garden design are linked together by a common theme and style.

Herb garden design plan
We designed and installed this herb garden design. We provide all the information and guidance you need to adapt this garden plan. Download and use this herb garden design plan for your garden.




For something quite different.