A low maintenance Formal Garden Design adds Status to your Home
A formal garden design adds a feel of perfection. This garden style is ideal for the executive. It creates a feel of balance. Use our expertise to transfer your personality into a formal garden design.
Formal gardens are one of my favorite styles. It is beautiful, neat and visually pleasing due to its architectural concept. Formal gardens are not difficult to maintain. A well planned formal garden requires minimal effort.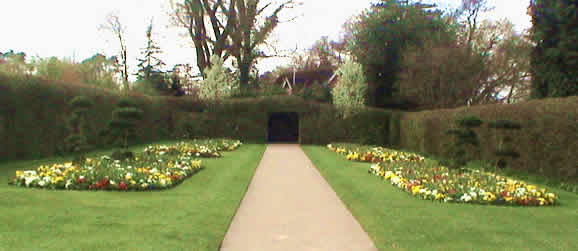 Formal Garden Characteristics
A formal garden is easily recognized by:

* Perfect mirrored symmetry (both sides identical)
* Hedges are clipped
* Some plants are in matching tubs
* Everything is perfectly balanced and in proportion
* Right angled geometry is used
* Pool is formal, usually rectangular
* Hedged vistas are punctuated with an accessory
* Boundaries are stone balustrade or wrought iron
* Furniture is classic

Formal Garden Design Features
Designing a formal garden is fun! You design one half of the garden, and just copy it to the other side. Mirror image!
Our Garden Design page contains all the help you need to design a garden. If you are not confident, go have a quick look.
To begin the design, you divide the garden up into rooms. Sort of like your house is divided. You work outward from the doors and windows of the house. Utilize the space correctly. Keep to the scale and proportions.
Mass an even number of shrubs, trees and plantings to achieve balance. Make a path in the central axis. This links the house to the garden.
This path also achieves strong symmetry. Symmetry is also created by using sculptures, pots, topiary plant, or other identical materials.
The use of perspective is very interesting in a formal garden design. Colors can be used to achieve perspective. Plant bright colors in the front and blues and grays further away. This is called aerial perspective.
Another simple formula is to have two 'parallel' lines converge into the distance. Do this by physically designing the distance between the lines closer together at the far side of the garden. There are other tricks to achieve perspective, let your imagination run wild!
Patterns echo the theme of the design, the architecture of the home and landscaping. They look wonderful when viewed from above. Use different plants to give the pattern a stronger backbone.
Annuals with harmonizing colors bring patterns to life. Colors may be changed inside a pattern for variety. Patterns are also created by planting hedges in circular, triangular or square shapes.
The patterns can form plant boxes or remain in a straight line. Patterns add visual appeal to a formal design. Formal gardens look very grand if designed correctly.
Here are a few formal garden design tips. Pathways are made of gravel. Floral content is minimal, as you rely on different shades of green. Pots and containers are normally square in shape. Floor patterns are very strong.
Remember this final practical tip. Retain the gravel in the paths by a suitable means, e.g. brick edge. Lay a plastic ground sheet (with drainage holes) in the pathway before adding the gravel. This will prevent it from becoming muddy in wet weather. The gravel should be at least 50 mm (2 in) thick.
But, personal taste matters at the end of the day. The garden should reflect the personality of the owner so have fun, but remember the golden rules for formal garden design:
* Perspective
* Geometry
* Pattern
* Linkage
* Vista, e.g. a long narrow view or pathway leading to a focal point
* Balance
* Symmetry (mirror image)

Phew, almost done! I have written a short page on the different types of formality. This is not essential reading, but is interesting.
Roses make a stunning Formal Garden