A Bouquet of Container Gardening Plants
Container gardening plants can liven up even the dullest spot. Find the right combination of plants to complement your favourite container. Here are some suggestions of plants that group well in containers. Use these plants in your container garden design.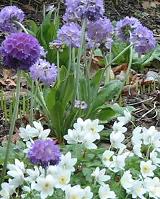 Choose container gardening plants that complement the color and texture of the container. The container and plants must be in harmony. It is similar to dress sense. Some colors just don't go together!

I sometimes go to the local nursery to get some ideas. I pick some plants I like and put them together on the trolley, stand back and see how they compliment each other. It's like trying on different dresses and accessories and looking in the mirror. You keep on changing until you feel it is just right! This makes container gardening so exciting!

Direct Gardening offers quality plants at great prices. They also have an excellent plant selector, come see what I mean!
Container Gardening Plants with Striking Foliage
Red Foliage
Plant a container with red foliage tints. It is beautiful to recognise seasonal changes in your garden. The reds, purple and bronze foliage adds depth and interest in your garden. For example, an Acer palmatum (Japanese maple) can look beautiful in a large container. A layer of pebbles, small, medium and large with moss in between will enhance the beauty of the acer.
Other examples of purple-red foliage plants are; Bugle ajuga reptans (burgundy glow), Bergonia rex, and Heuchera (Heuchera micrantha).
Silver, Blue and Grey Foliage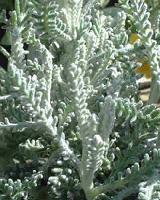 Designing with silver, blue and grey foliage, do just the opposite to the dark foliage colors. Dark foliage brings depth to a design. The silver and greys bring in light. The greys also provide a gentle soft background for lighter colors.
They tend to be good go betweens where colors appear to clash. Some examples of silvers blues and greys are; Santolina chamaecyparissus (cotton lavender), Stachys byzantina (lambs ear, lambs tongue) and Pelargonium Geranium (Pelargonium).
White and Cream Leaves
These variegated plants are excellent container gardening plants, because they are sometimes lost in a garden. They also introduce light into different areas. Examples are; Plectranthus (Plectranthus madagascariensis) "variegated Mintleaf", Hosta (Hosta fortunei "Francee", and Ornamental cabbage (Brassica oleracea) Capitata group.
Gold Foliage
There are different shades of yellow, ranging from deepest creams to darkest yellows. The gold plants can create a cheerful mood in containers. They let the sun shine into your design.
Examples of gold foliage container gardening plants are; bamboo (Pleioblastus auricomus), Thyme, Creeping Jenny (Lysimachia nummularia) "Aurea", Ivy (Hedera helix) "Buttercup", Phormium, and New Zealand flax.
Green Foliage
Green is a color on its own, the closest to nature. Most gardens are made up of green, in different hues and textures. Shiny green leaves reflect light into a design. Different shades of green and different types of leaf textures add interest and beauty to the design.
These green foliage plants are suitable for containers; Fatshedera x (Fatshedera lizei), Ostrich Fern "Matteuccia struthiopteris", Cordiline (Cordiline australis), and Ladies Mantle (Alchemilla mollis).


Container Gardening Plants with Flowers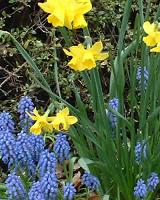 There are container gardening plants with beautiful flowers. You can combine them with the different foliage colors. For example; white flowers look great with grey foliage.
White Flowers
Container plants with white flowers include; Camellia "Alba Plena", Crocus, Snakes-head fritillary (Fritillaria meleagris var. Alba), Daffodil, Narcissus Jorquil, Rhododendron, Azalea and Common white lavender (Lavandula angustifolia) "Alba".
Yellow to Green Flowers
These flowers combined with orange blooms bring in warmth and brightness. Greens are needed to tone bright colors down. Yellows look good with deep purple and violet flowers.
Examples of yellow to green flowers; Crocus "Golden yellow", Daffodil Narcissus "Rip van Winkle", Azalea, Daylilly (Hembrocallis), Pansy Viola "Jackanapes", and Nasturtium (Tropaeolam majus) "Whirly bird gold".
Apricot to Orange Flowers
These flowers combine well with green or grey foliage. Examples are; Verbena, Nasturtium, Viola, Pansy, and Marigold (Tagetes).
Red and Pink Flowers
Red flowers look good with cream and green foliage. Pinks and purples go well together. Look at the color wheel for contrast in colors. Blend your foliage and colors together.
Pink flowers also do well with silver grey foliage. Here again its personal taste. Pale pink, mauve, creams, and pastel shades do well with silver foliage. Dark purple tulips will add depth to a design.
Some examples of container gardening plants with red and pink flowers; Reds- Scarlet trumpet honeysuckle (Lonicera x brownie) "dropmore scarlet", Lobelia (Lobelia erinus), Pelargonium, Geranium (Pelargonium), Fuchsia (Fuchsia), Snapdragon (Antirrhinum majus) "Black Prince", and Tulip (Tulipa) "Bing Crosby".
Pink flowers include; Ranunculus, Pelargonium, Alyssum, Sweet pea "Lathyrus odoratus", Petunia, and Cyclamen.
Mauve and Purple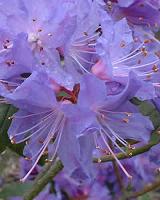 Most mauve and purple flowers mix well with other colors. Blue flowers, hints of green and some reds and pinks look good together. Examples of blue flowers include; African lilly (Agapanthus), Rhododendron, Grape hyacinth (Muscari armeniacum), and Hydranga.
Mauve to purple flowering container gardening plants are; Primrose (Primila) "Miss Indigo", Crocus, Lavender (Lavandulas), Sweet Pea, Viola (Viola) hybrid, and Purple Petunia.



Group your container gardening plants together according to climatic and water requirements. A little bit of homework upfront will help you to combine the plants correctly. Successful container garden design depends on matching plant requirements and on combining complementary plants together.


Return from Container Gardening Plants to Container Gardening