Mystical Garden Lighting to Transform Your Garden
Garden lighting is not just for Christmas! Lighting a garden at night adds a complete new dimension to garden landscaping. You emphasise the most beautiful features of your garden.
At night gardens are more fragrant than during the day. When you add lights, the garden can be enjoyed like never before. Here are the garden lighting design techniques we use to transform ordinary gardens into show pieces. Apply them freely in your garden design.
Lighting techniques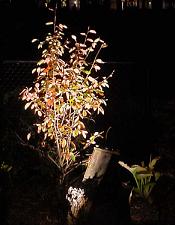 Color lights
Color lights will truly bring the artist out in you. Your night garden can look dramatically different from your day time garden. It is like a woman putting make-up on to bring out her true beauty! Unsightly features are left in the dark. Focal points are emphasised. Dull color is corrected, or even changed.
White light will light up the garden in its natural colors. The whites may also appear whiter.
Yellow light will freshen up your greens and warm up the overall tone of the garden. Red light will make greens appear darker, but will accentuate warm colours. Blue light will bring a cooler effect. Green light will emphasise the green foliage more.
Lighting something up with the same colour light will make the item appear whiter, and thus accentuate it. The effects that can be created are endless.
Lighting from bottom up
This is the most widely used method in garden lighting design. Plants are lit up more at the bottom than the top. This allows the fading of the light higher up to avoid too large a contrast with the black sky beyond.
We don't want to create to sharp contrasts at night. This detracts from the peaceful soothing effect that is sought after. At night you want to wind down from your days work and still enjoy your garden. So nothing too dramatic please!
Frontal lighting
Frontal lighting on structural plants and focal points create a superb effect Use direct frontal light for your main focal feature only. This draws the eyes to the strongest feature in your garden. The more diffused light of the surrounding plants will frame the focal point. If you leave out the diffused light around the focal point, the contrast will be too great. The flow will be disrupted and unity lost.
Backlighting
Use backlighting to create a silhouette effect of a structural plant. This effectively mimics a setting sun. The translucence of large foliage increases dramatically. The large leaves just look magnificent. A word of caution; make sure that the light will not shine directly into the eyes of guests!
Lighting from top
Use flood lights to light up large areas from the top. This lights the area utilised for entertainment. If the whole garden is lit up this way, you effectively have the exact same garden as during the day. This is rather uncreative, but functional. Be selective in which areas you flood with light.
Landscape lighting design aspects
The following few design aspects are important. Use them to make your garden lighting design effective. Our garden design page provides detailed information of garden design techniques.
Contrast
Contrast in the garden is magnified by only lighting up part of the garden. This also creates mystique.
Lighting of pathways
Light pathways up! Provide sufficient light for visitors to safely walk through the garden. Take particular attention to steps or changes in level. Used diffused well hidden lights placed very low on the ground. If you prefer, you can place lights higher up on suitable posts. This will clearly demarcate the pathway.
Seasonal change
Design flexibility into your garden lighting. Take advantage of the seasonal changes in your garden. Make small changes in the position and direction of each light and create a different garden! For example, a light used to light up an evergreen shrub during winter, can be focussed on a tree full of blossoms in spring! Be creative and enjoy your garden to the full.
Lighting of water features
Use the water to create special effects. Ripples on a pond will cause reflecting light to dance in the trees and shrubs. Back light through a waterfall creates a beautiful sight. Submersed lights in a pond create a luminous effect.
Lights used for Garden lighting
Aim a spotlight on a focal point to emphasise it. Narrow beam spot lights are very directional, and will light a smaller area of the garden, but to greater intensity. Use wide beam spotlights to light up a larger area. Their light is more diffused.
Use low voltage spotlights. This provides the greatest flexibility to the owner. They are also safe to use.
Come on, get into your garden and get the idea light switched on!