Inspired Landscaping Ideas for a Cottage Garden Design
Spark your creativity for a cottage garden design with our landscaping ideas. We explain the key elements for a successful cottage landscape design. We also include some gardening tips. They will ensure that your garden remains spectacular.
Style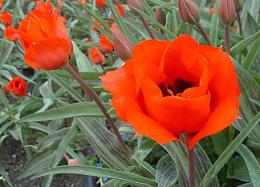 The cottage garden is a formal garden style. This means that the garden is balanced on either side of the central line of the garden. A cottage garden normally contains culinary herbs, flowers, vegetables and fruit.

Cottage Garden Design Elements
Basic design
Balance is critical. Balance the volume of plants and your materials on either side of your balance line. Make sure that the rhythm, features and color flow. Add emphasis to your focal point. This creates drama.
Remember unity in the design. The house and garden is integrated to form a unit. A complete overview of the design principles are contained on our garden design page.
Pathway
Some cottage gardens have a long central path leading to the front door. It is used as the balance line for the garden. The materials used on either side of the path needs to balance. The garden gate sets the theme for a cottage garden.
Plant Thyme between the gaps in the pathway paving. Any fragrant ground cover will give off a beautiful fragrance when you step on it.
Border Plants
Different plantings of herbs and vegetables are grown on either side of the pathway. Plant some pretty flowers to brighten up the herbs. Companion planting of marigolds between the herbs, keep the insects at bay.
Parsley and chives can be used as edging of the beds. The difference in leaf texture adds interest to the garden.
Flowers
Remember that seasonal plants are important in a cottage garden. Bulbs brighten up the garden in spring.
Oh yes, don't forget the roses! Chives do well under roses. They also repel insects. Roses look better when contrasting and blending the flowers. Silver and grey foliage enhance roses.


Trees and Shrubs
Two fruit trees may be added to your cottage garden design. They need careful pruning each year.
Where space is limited, fruit trees can be trained into a fan shape or an espalia. Think about apples, pears, peaches, apricots, sweet cherries, figs, gooseberries, etc.
Plant rue under your fruit trees. Rue will prevent insects from eating your fruit. Rue lets of a smell that deters insects. Spraying is the last resort.
Shrubs that vary in color during autumn, add interest to your garden during seasonal changes.