Love the classics ideas for an English Formal Garden
Enhance your country style house with an English formal garden. Learn the essential elements of the New England Geometry. Use our landscaping ideas to design your own formal English garden.
Spark your creativity for a garden design. We explain the key elements for a successful landscape design. Become garden wise with our gardening tips.
Style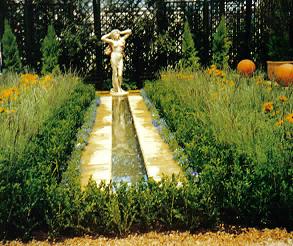 The New England Geometry is a formal garden style. It is from the 17 th century England.
The garden is viewed from above. Everything is balanced on either side of the central line of the garden. A focal point is in the centre or end of the central line.

English Formal Garden Design Elements
Basic design
Balance is critical. Balance the volume of plants and your materials on either side of your balance line. Make sure that the rhythm, features and color flow. Add emphasis to your focal point. This creates drama.
Remember unity in the design. The garden links with the house. The house is normally an old country style house. A complete overview of the design principles are contained on our garden design page.
Pathway
The English formal garden has gravel in its paths instead of grass. Ground covers are planted in the parterre section (curved hedge patterns) instead of annuals. This reduces the work load.
Fence
The New England Geometry designs have an American adaptation. The garden has an open wooden picket fence. This creates the introduction to the garden.
Focal Point
A topiary forms the focal point. This is the centre of the garden. The garden is normally free from any form of sculpture. A sculpture may be added as a focal point. This is the exception rather than the rule.
Trees and Shrubs
Trees and shrubs spill onto the loosely trimmed edges of beds. This makes the garden look informally formal.
Human Comfort
A bench can be placed at one end of the garden. This could be "balanced" by another bench on the other end of the garden. This is personal taste.
Scale
The scale of the garden is all important. For example a small garden requires small plants and shrubs.