A Tuscan Landscape Design Brings Tuscany to Your Home
Why do so many people love a Tuscan landscape design? Could it be the twisted olives, meadows filled with beautiful wild flowers, azure skies and fine covered pergolas dangling with delicious grapes? This may influence them, but, the bottom line is… Tuscany is charming!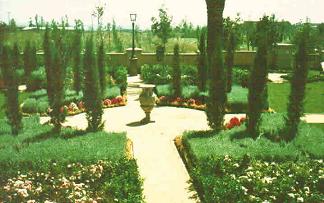 Bring a bit of Italy home in a Tuscan landscape design. Create a Tuscan mood in your home and garden. Paint your home in earthy tones. Dry, earthy shades of ochre, dusky pink and muted gold blends in with the rustic farmhouse types. Tuscan furniture is normally café styled.
The essential design principles for all gardens, including Tuscan gardens, are contained in my
garden design page. Combine those principles with the information given on this page for a stunning Italian garden design.
Hard Landscaping
Don't forget the fountain. A fountain is one of the characteristics of a Tuscan landscape design. An Italian styled fountain will be one of the focal points in your garden design.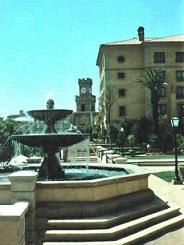 All the tiles need to link and match with the containers. Terracotta tiles go well with Tuscan gardens. Otherwise rustic type tiles will do. Place color blended gravel in between the tiles, alternatively use a ground cover. Plant the ground cover in soil rich in organic compost.
The human element is essential in the garden. A bench needs to be placed under a tree. Choose the bench color to link and match with the terracotta containers and tiles.
If you have an area that is small e.g. a patio with a wall, an illusion of space can be created by painting on the wall. You could
paint a scene with vines or tiles with overflowing containers on it. A large mirror will also do the trick and make the Italian garden design appear much larger.


Containers
Terracotta containers are essential for any Tuscan landscape design. Your containers must all match and be planted up correctly. See the container gardening page for more information.
I think it is effective to line a pathway to the front door with containers. They could be planted up with conifers, citrus trees, olives, bottlebrush, strawberry tree (Arbutis unedo), bush cherry (Syzygium paniculatum), Melaleuca bracteata "Revolution Gold", carob tree (Ceratonia siliqua), or Yellow wood (Podocarpus henkellii).
Containers could also be planted on a patio with vines. An interesting variation is to sink them halfway into the ground. Plant the containers with brightly colored perennials and bulbs such as: - bearded iris, agapanthus, gazinia or day lilies.
If you prefer bulbs; plant bulbs such as tulips, ranunculus, daffodils or freesias. You could also plant brightly colored annuals around the container on the ground. Use plants like red poppies (Papaver rhoeas), pansies, marigolds, salvias, petunias, verbena, zinnias, etc.
Containers should be carefully grouped and placed keeping their watering requirements in mind. Knot gardens and topiaries can also be part of a formal garden. Use large identical terracotta containers when you create a formal Tuscan garden.
Small Tuscan Garden Design
Look at the full grown size of your plants when doing your Tuscan landscape design. Everything must be in scale. Choose small plants for a small garden and visa versa.
In small gardens lawn would be replaced with gravel. Plants appear through the gravel. Keep in mind that the most common Tuscan landscape design is informal. It is based on very colourful plants.
A Tuscan garden has a country look about it. Terracotta pots and urns are also part of the design. You may even find a terracotta pot broken in half with some annuals growing inside of it.
Plant Selection for Mediterranean Garden Design
In Tuscany they experience relatively mild winters and hot summers. Mediterranean plants are used in a Tuscan garden design.
Border plants are also important in the design. Select your plants carefully. Remember the goals and principles of design. With Tuscan landscape design bright colors are important. Group your colors, blend and harmonise them.
Use contrasting foliage. Greys dark greens and yellow foliage blend well together. "Less is more". Choose about 4 species and repeat the pattern of the planting.
Shrubs
Every garden should contain shrubs. Place some shrubs in the back of the borders. Small shrubs for a Tuscan landscape design include; rosemary, lavendula, stoechas, santolina, roses, bottlebrush, Felicia daisy and pelargoniums.
If you have a large garden large shrubs could include; bird of paradise (Caesalpinea gilliesii), Pride-of-India (Lagerstroemia indica), bay bottlebrush, raphiolepis, viburnum, and Westringia rosmarifolia.
Trees
Tuscan landscapes should include some evergreen trees. Consider; olives, citrus trees, strawberry tree (Arbutis unedo), bush cherry (Syzygium paniculatum), carob tree (Ceratonia siliqua), and Yellow wood (Podocarpus henkellii).
Some suitable deciduous trees are; silk floss tree (Albizia julibrissin), Judas tree (Cercis siliquastrum), and Hong Kong orchid tree (Bauhinia x blakeana). Only plant a deciduous tree in front of a window. A deciduous tree will loose its leaves in the winter, thus allowing the winter sun to filter through.
Climbers and ground covers
If you need climbers, consider using climbing roses, sky flower, star jasmin, wisteria, bougenvillea or Mexican blood trumpet. Some ground covers include wonder lawn (Dichondra micrantha) or creeping Jenny (Lysamachia nummularia "Auria").
Return from Tuscan Landscape Design to Design Gardens Home Page