Halloween Yard Decorations to Haunt your Garden
Transform your garden with Halloween yard decorations. Make your yard a fun place for your kids and the envy of your neighbors. Use creative ideas to make your garden landscape unique.
Halloween is one of those fun times of the year. Children just love to participate. You can have even more fun as you involve your family in transforming your yard into a Halloween garden.
Holloween Focal Point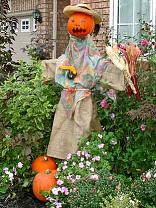 Create a strong Halloween focal point around which you can develop the theme and place your Halloween yard decorations. Your focal point should be as large as possible for the best visual impact. You may want to review a few of the garden design principles to get your focal point just right.
I chose a Halloween Scarecrow with pumpkins as a focal point. You may use other Halloween yard decorations as focal points. Some ideas include a witch and broom, a large spider, a ghost, a skeleton etc.
We constructed the scarecrow using bamboo sticks as a framework. Three sturdy bamboo sticks were tied together approximately 15mm (6in) from their tops to form a tripod. The bottom legs of the tripod were secured to each other using additional pieces of bamboo. The tripod was securely pushed into the ground to make it sturdy.
A pumpkin was placed between the three protruding bamboo sticks at the top to serve as a head. This introduces the pumpkin theme for the rest of the garden. Two additional sticks were tied to the tripod frame to form the arms and shoulders.
Hessian, material, a straw hat and a waistband completed the clothing. The clothing is simply held together using safety pins. Corncobs, small pumpkins and squashes make up the rest of the decorations on the scarecrow. Oh yes, we didn't cut out the pumpkin to make the face, but rather drew the face with permanent marker. (It prevents the pumpkin from rotting prematurely)
Halloween Yard Decoration Ideas
Place other Halloween yard decorations in your garden to develop the theme. We placed lots of pumpkins around the garden, in groups and as single items. We also placed rust colored chrysanthemums in the border to integrate the colors of the pumpkins into the garden.
You may wish to place spider webs, a cauldron, brooms, spiders, bats and other Halloween related items in the garden. Your children would love to participate. You may even use Halloween lawn decorations to extend the theme out of the beds into the whole garden. You are only limited by your imagination!
Visit our instant flower garden page for some low budget ideas to enhance your Halloween yard decorations.
Get more Landscaping Ideas for your Garden
Return from Halloween Yard Decorations to Design Gardens Home Page