Make an Instant Flower Garden for Special Occasions
Do you need an instant flower garden for a special occasion and your garden just looks awful? Here are a few tips to quickly brighten up your garden and delight your guests. It may require some hard work, but isn't that special occasion worth it?
First take a critical look at your garden. Is anything just dreadful, are there a lot of dead annuals or branches, and are there bare patches, etc. It may be a good idea to cut or prune out dead branches, dead head flowers, weed the beds and mow the lawn. This will allow you a better judgement of the garden's potential.
Lets Plant that Instant Flower Garden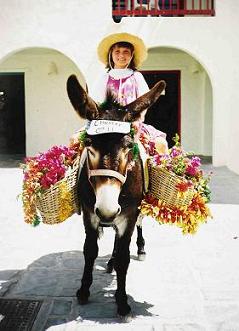 Review the garden design principles to get some idea of what you need to do. Decide on a theme . The theme might be permanent or just particular to your event.
Decide on a few focal points. Not too many otherwise you loose impact. Now go to your local nursery and see what plants are in season.
There may be a nursery in your area that will be willing to rent out some plants to you. If you have located such a nursery, visit them and see what they have available.
Make the final decision on what you need and see how it will fit into your budget. Remember that color can really brighten up any garden. Here are some budget savers for your instant flower garden:
Plant bottles or vases into the ground and
fill them with seasonal flowers from the florist. With a bit of practice you can make it look natural. This adds color very quickly and is cheap.
Place garden furniture with a bright table cloth and cushions on patches were the lawn looks a bit poor. Borrow some extra garden furniture from your neighbours if possible, or else hire some.
Garden umbrellas can also add interest.
A thin layer of compost or mulch will cover poor looking soil.
Get out your glue gun and stick anything that is loose back in its place. This is a temporary solution, but will be quick to do.
Hire a water feature or a statue as a focal point.
Make use of your wheelbarrow by putting some pretty flowers in it and covering the bags with compost. It will look like a permanent planting. The wheel it into a position that needs some perking up.
Plant plants that you hired from the nursery in the ground, but keep them in their containers. It is then easy to return them in the same condition to the nursery. If you really like some of the plants, you can replant them straight into the ground after the event. This will make your lovely instant flower garden permanent!
I think by now you should get the general idea for an instant flower garden. Remember that you are only limited by your imagination.
Some Additional Ideas
Flowerbeds were traditionally placed on either side of a pathway. Designing this way adds to the perspective to the design. More perspective can be added further by using light blues and greys to give that added illusion of depth.
There is seasonal interest that must be taken into consideration when you design your instant flower garden; for example, roses bloom in spring and summer. Roses can be planted with the following plants:- Violas, Catmint; catmint can be used as a mulch, Salvia, Sages, Cotton Lavender, Lavender.
Visit your local nursery; look at the plants that are flowering at the same time. Have a look at their growing conditions. Refer to the colour wheel for colour combinations and colour groupings. Using white and cream blooms inbetween can tone down bright colours such as yellow and red.
Seasonal Considerations
The following information is for gardens in the northern hemisphere. If you live in the southern hemisphere simply just add 6 months!
Early bulbs push through such as Iris, Crocus, Snowdrop and Daffodils. Cyclamen Coum can also be seen flowering and Pansies also make an eye-catching display. They flower for many weeks, even in the cold. Clematis flowers before midsummer and looks good in an instant flower garden.
In March, daffodils and tulips look wonderful in an instant flower garden. The ground should be prepared for the flowers coming in. Plenty of organic compost must be added to the beds. Remember; healthy soil means almost disease free plants. The blue-purple Muscari neglectum (grape hyacinths) compliments the golden Narcissus (daffodils).
Early spring Perennials are great for the borders. Primula "Dawn Ansell" and Primula denticulate are amongst the Premila family that look great in borders. Other border plants include: - Corydalis solida, Epimedium x youngianum "Niveum, Anemone appenina and Ipheica uniflorum "Violaceum". There are so many varieties to choose from.
Bulbous plants will provide most of the colour in an instant flower garden. Massed displays convey an appearance of fullness. Carefully mix daffodils, tulips and other bulb combinations together. By doing this, you will have a continuous flower display for several weeks. Deadhead your bulbs when they have flowered and allow them to die down.
Some plant combinations include pink hyacinths and white violas. Pale yellow and creamy wallflowers (cheiranthus) look good planted with deep purple tulips.
A lovely spring ground cover with masses of tiny violet flowers is Aubrieta deltoidea. This looks good with bright orange and creamy coloured flowers. There are many flowers to choose from. Tulipa "Noranda" has blood red petals and orange tinted edges – they'd be good for your instant flower garden.
May is one of the loveliest months, there is colour everywhere. It does require skill and a high detail of plant knowledge to get the balance right. All the design principles need to be taken into account; flower colour, form, foliage and the grouping of plants.
Some lovely plant combinations include: - Luraria annua alba, White honesty, Welsh poppies and Forget-me-nots. Don't forget to repeat the planting patterns to create harmony, flow and unity in your design.  Use mass plantings to create impact.
Bearded Irises flower in May; these could fill some gaps in the garden. Irises look good when massed and under planted with the same color forget-me-nots.
Flowering trees such as the Prunus "kanzan", Cereis siliquastrum and others flower in late April to early May and would form a focal point in your garden. Rhododendron's, Wisteria floribunda's and Rosa species look wonderful in May. Some other flowering plants include: - Fuchsia, Begonias, Pelargoniums, Petunias, Nemesia, Lobelia, Foxgloves and dahlias.
In June we see summer on its way. Roses, clematis, violas, campanulas, delphiniums, dianthus, oriental poppies, irises, geraniums lupinus pollyphyllus, centranthus rubber, and papaver orientale are all but a few of the many flowers that can be seen at that time. Some of your flowers need to be staked, as they will fall over on a very windy day.
July also brings lots of colour; the long, bright summer days match the strong colours of vibrant reds, golden yellows and shades of pinks. Some plants for an instant flower garden include: - Verbena bonariensis, Asters, Anthemis, Lilium candidum, dianthus and many more.
Summer fragrances fill the air in July, and are so inviting when the wind blows they your way. Fragrant flowers will add another dimension to your instant flower garden. Eryngium bourgatii (sea-holly) looks very interesting in July. It resembles thistle. It provides good form and texture to compliment other types of plants, e.g. the bright orange flowers of the Crocosmias or Day lilies.
Alcea rosea (hollyhocks) look wonderful grown against the wall in August. They are full of flowers at this time. Hollyhocks are available in a wide range of colours, including near black.
Sunflowers also look good as a backdrop. Don't forget to stake them.
Good flowers to buy in August are Dendranthemas. They were formerly known as Chrysanthemums, they continue flowering into autumn.
Tagetes erecta (African marigolds) make a lovely show in August. They are bright yellow and orange in colour. Tagetes prefer full sun. A lovely flowering shrub to have is Hibiscus. You can get single as well as double flowering shrubs.
To add to your lovely instant flower garden, why not add Buddleja davidii. Butterflies flock around it during summer. What could look lovelier than butterflies and flowers for that great event?
You need to continuously deadhead flowers that died down. Cut back some of the summer perennials which finished flowering. Keep on feeding the flowerbeds with rich organic compost. The border plants in the instant flower garden could include Verbena Bonariensis. Don't deadhead the verbena; let them set seed for next season.
Echinacea purpurea (cone flower) gives colour in late summer and autumn.
Asters grouped together start flowering the end of September and look good in masses. Grow Gypsophila in between the verbena bonariensis. This will make an interesting combination for an instant flower garden. Remember, the soil must be free draining. Repeat the border pattern for continuity.
October brings autumn with it, slowly, but surely. Many late flowering perennials, such as Sedums, Rudbeckia, Solidago, Physalis and Chinese lantern's look magnificent.
Autumn bulbs start flowering these include Crocus, Colchicums and Cyclamens. The grass likes leaves of the Liriope Muscari produce surprises in the form of purple, small flowers in between them. Clean up all the dead leaves, cut down spent perennials.
Nothing looks worse than dead plant material in any instant flowering garden. Use the dead material for composting. Leave these to rot for 18 months. They make mulch over your soil to protect it; it will also make nutritious mulch for your garden.
Flowering this month in the rain, wind and cold is the Viburnum tinus. Flowers of the Liriope platyphylla can also be seen. Plant your tulip bulbs in November. Winter is the most challenging months for an instant flower garden. Foliage colors will have to replace the color usually provided by flowers.
December is clean up month, clean up the shed, clean up the garage. Look at the shape of your flowerbeds; does the hard landscaping still look good? If not, redo the flowerbed edges.
In winter a lovely shrub; Garrya elliptical (tassel bush) may be seen. It does well against a warm wall and long, graceful, male Catkins look splendid when they open.
Winter Jasmine, Jasminum nudi florum has small yellow flowers on long stems. Jasmine helps brighten up December. They look good en massed. They also require good drainage and a sunny position.
From all this it can be seen that winter is definitely the most challenging to get an instant flower garden. Well I'm sure you knew that already!



How about a Magazine or Book for some Ideas?
Return from Instant Flower Garden to Design Gardens Home Page