Gazebos for Versatile Garden Splendour
Gazebos create magnificent and spectacular focal points in gardens. A few essential
garden design principles
will assist in the choice of the correct one for your garden. Follow a few simple steps to select the most suitable pergola for your home or
build your own
. Don't you sometimes wish you could have a special spot to
relax
and view your beautiful garden? Or maybe a comfortable place to just get away from everything? I have the answer. A Gazebo! From an elevated or sunken position, protected from the sun and elements, you will be able to enjoy more than human comfort.
Function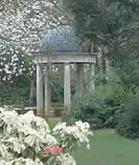 Gazebos are very versatile and can be used for many things. Just think … a tea party with friends, a cool drink on a hot day, a romantic sun downer, a summer morning breakfast or even that spectacular garden wedding idea!
Having a pergola in your garden is a no fuss way of creating a visually attractive extra garden room. They are built to last. It can create a wonderful ambience for evening entertainment when lit up at night. It will also be a great to relax and do some outdoor living under the shelter of the roof.
Evaluate you family's needs (short term and long term). Write these down as it will influence your final selection.
Garden Design Elements
Gazebos are permanent structures and should be placed in the correct position from the start. Their large size makes them suitable for medium and large gardens. Their size also makes them some of the most dominant focal points in gardens.
Balance
The sheer size of a gazebo will have a large effect on the balance of your garden design . Remember that trees and shrubs continue to grow for many years. The mature sizes of these plants must be taken into consideration when balancing the garden.
In a formal garden design a pergola will invariably be placed on the central axis of the design. In other gardens it could be balanced by large trees or masses of vegetation. Remember that the pathway to the structure could also influence the visual impact thereof.
Take care to place it in the correct position. You cannot just move it over a few inches if wrong!
Style and Theme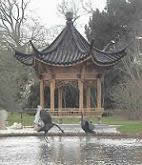 The very sight of a gazebo is welcoming and inviting. What a great conversation piece. Everyone can enjoy the beauty of your garden and home together.
The style of the structure must fit in with the style of the home and garden. On this page are pictures of an oriental style and Mediterranean style pergolas. There are many more styles, but these two pictures emphasise the need to select the correct style.
The theme of your home and garden can be incorporated into the gazebo by choosing the correct furniture and soft furnishings. It will match your home's interior design perfectly. Fabrics, colors and styles will match and link.
Maintenance
Maintenance should be taken into account before finalising your selection. Wooden structures will require regular treatment to preserve the wood. If you chose a thatched roof, expect to do periodic repairs and possible replacement of the thatch every 10 years.
Some metal structures corrode and would require periodic cleaning and painting. This is especially important in corrosive environments i.e. near the coast. Where plastic is used, make sure that it is UV proof.
Building Your Own!
Dramatically save your garden installation costs by building your own gazebo or pergola. It is easier than you think.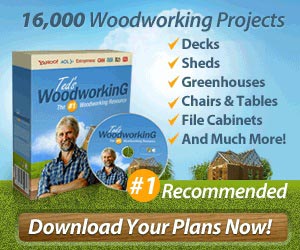 Ted's Woodworking provides all the plans, blueprints and instruction videos you will need to complete your garden woodworking (and many other projects around your home).
The projects are suited for novice and expert alike.
Japanese Garden Designs recommends Ted's Woodworking Projects.